How To Become A Successful Model in Nigeria – Webinar
April 11 @ 5:00 pm

-

7:30 pm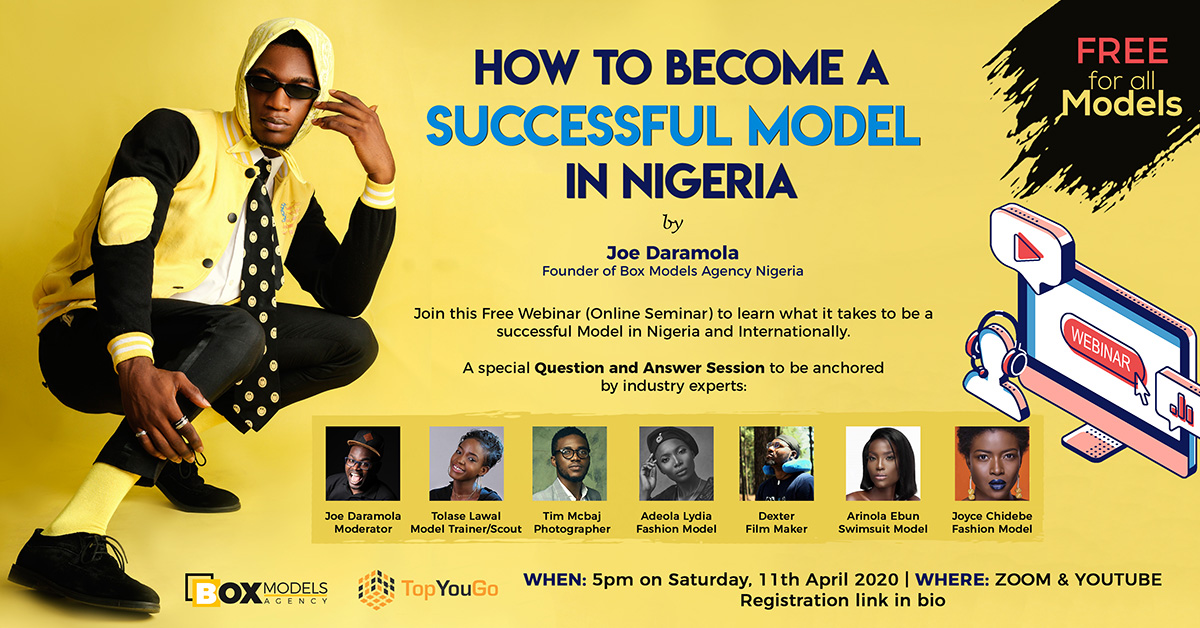 Are you an aspiring model, upcoming model or you are already in the modelling industry? This webinar is for all models (new and aspiring models) in Nigeria and around the world who want to learn how to become a successful model. We will be providing you with actionable tips on how to be a successful model in Nigeria and internationally.
Furthermore, since there are so many questions around modelling that are unclear or unanswered, Box Models Agency has put together a panel of experts in the modelling industry who will be answering most of your questions and also share their experiences with you.
Join the webinar (online seminar) to participate and learn more.
Our Panel of Experts:
Joe Daramola (IG: @daramsdejoe), Tolase Lawal (IG: @am_royal_t), Tim Mcbaj (IG: @Tim_mcbaj), Adeola Lydia (IG: @thebigtitgirl), Dexter (IG: @madewithdexterity), Arinola Ebun (IG: @arinolaebun) and Joyce Chidebe (IG: @joycechidebeofficial)
When: 5 pm on Saturday, 11th April 2020
Where: ZOOM & YOUTUBE
Fee: Free
Registration Link: bit.ly/BoxFreeWebinar1104We
For any inquiry, please send us a message via Instagram (@boxmodelsofficial).